Wittenborg Launches its 2nd Erasmus+ Project "Innovation in the FURniture Industry in the Era of Circular Economy"
Image

30-Month Erasmus+ Project Launched
Wittenborg University of Applied Sciences launched yet another European Commission approved Erasmus+ Project known as "INnovation in the FURniture Industry in the Era of Circular Economy". This 30-month project, known as INFURI, which received an EU grant of more than EUR 350,000, started in December 2020 and is expected to be completed by May 2023. This is the second Erasmus+ project in which Wittenborg is taking the leading role since the beginning of this academic year.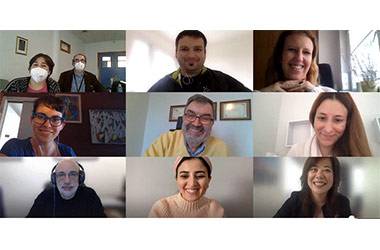 Circular Business Models
The aim of the project is to spread innovative and sustainable circular business models in the furniture industry with the focus on SMEs and to equip furniture employees with relevant skills related to circularity, while promoting synergies and cooperation among businesses, universities, research centres and other relevant stakeholders operating in the furniture sector. The initiative will set up 6 living (e)labs in 6 European countries and involves at least 36 furniture production companies, plus relevant stakeholders active in the sector of furniture & circular economy of countries involved in the project.
Led by its CEO, Maggie Feng, and supported by key members of the Wittenborg Research Centre, Wittenborg will collaborate with 8 other partners, from training specialists, a technology company, software developers, a specialised circular wood production company to a chamber of commerce of furniture manufacture. The consortium is diverse and represents 9 institutions from 7 countries in total. Specifically, the partners involved in this project are CIAPE - Centro Italiano per l'Apprendimento Permanente (Italy), Materially Impresa Sociale S.R.L. (Italy), Creative Thinking Development (Greece), Virtual Campus LDA (Portugal), STEP Institut, zavod za psihologijo dela in podjetnistvo (Slovenia), Mizarstvo Ornik (Slovenia), Instituto Tecnologico Metalmecanico, Mueble, Madera, Embalaje y Afines-Aidimme (Spain), and Ogolnopolska Izba Gospodarcza Producentow Mebli (Poland).
'Highly Skilled Craftmanship'
The project is looking at an industry that is full of SMEs, where often highly skilled craftmanship can be found. This is an industry that is already aware of its role in the circular economy, but the steps towards recycled material, recycling waste, upcycling waste, etc., are yet to be further developed. Future-proof and open-source training materials are not easily found. All these challenges drive the entire project team to move forward and to make changes. Wittenborg's main campus is located in Apeldoorn, the Netherlands, which is part of the CleanTech region (https://www.cleantechregio.nl/english-summary), where the Circular Economy is one of the focus points. There is high ambition towards circularity in this region and Wittenborg is happy to be able to contribute positively as part of this EU project.
A Virtual Kick-Off
The virtual kick-off was held on 8 February with extensive preparation prior to the meeting. Ms Aydan Ismayilova, who has just joined Wittenborg's Research Centre to support the management and research activities of different EU projects, expressed her joy in returning to her alma mater. She said, "It is so good to be back with the Wittenborg family, and being given the opportunity to make use of my skills in project management that I have gained in my previous work experience in planning and managing international events up to Olympic level." She added that EU project management is very different and she is enjoying every moment of it. With Ismayilova's support, the Research Centre is looking at further sustaining and expanding its research activities.
WUP 10/02/2021
by Aydan Ismayilova and Hanna Abdelwahab
©WUAS Press
Related Content