Erasmus+ INFURI Project Research Paper Published
Senior Lecturer and Active Researcher Leads Research on Sustainability
Wittenborg's Erasmus+ 30-month project, INFURI, is in its 9th month of project implementation and has so far completed the work on its first intellectual output, which includes the delivery of Living Labs sessions in 6 partner countries with furniture companies and furniture end users, and one intellectual contribution in the form of a peer-reviewed journal article. Project INFURI, which is an acronym for "Innovation in the Furniture Industry in the Era of Circularity", is an EU-funded project, with Wittenborg as the coordinating partner.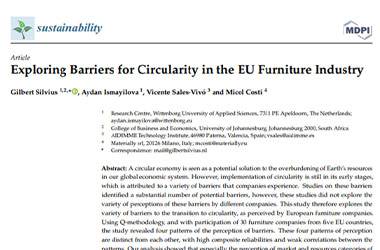 The research paper, titled "Exploring Barriers for Circularity in the EU Furniture Industry", was published in the Sustainability journal on the 7th October. Wittenborg's senior lecturer and active researcher Dr Gilbert Silvius led the research and was assisted by Project Coordinator Aydan Ismayilova as well as Vicente Sales-Vivo and Micol Costi, representing respectively the project partners Spanish AIDIMME and Italian Materially. The study explored the variety of barriers to the transition to circularity as perceived by European furniture companies.

Participant Viewpoints Obtained through Q-Methodology
A circular economy is seen as a potential solution to the overburdening of the Earth's resources in our global economic system. However, the implementation of circularity is still in its early stages, which is attributed to a variety of barriers that companies experience.
Using Q-methodology, and with participation of 30 furniture companies from five EU countries (Greece, Italy, the Netherlands, Slovenia and Spain), the study revealed four patterns of the perception of barriers. Q-methodology is a research design which provides a format for systematically exploring subjective perceptions. The methodology has its roots in psychology and social science and was developed to study and analyse different behavioural patterns through five steps in the Q-study analysis. The research demonstrated that barriers to circularity are not experienced in a single generalisable way, and provided valuable insight for the development of supporting or stimulation policies for circularity.
To date, INFURI project has concluded part of its deliverables: "the Living Labs" with six furniture SMEs in all of its partner countries and the publication of a research paper. Its upcoming deliverables in the next 21 months are MOOC (Massive Open Online Courses) 'Managing a furniture company in the era of circular economy', a book of lectures 'Integrated competencies and systemic approach in the era of circular economy', a Multi-Actor Circular Network and Circular Procurement Guidelines for Office Furniture.
WUP 23/10/2021
by
Hanna Abdelwahab with contributions from Elizabeth Ifionu
©WUAS Press