Erasmus+ INFURI Project in Full Swing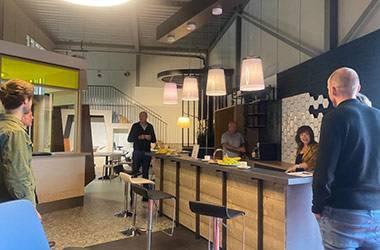 Erasmus+ INFURI Project in Full Swing with its 2nd Living Labs Session
Wittenborg's Erasmus+ Project, INFURI, is picking up speed with the completion of its second Living Labs session last Wednesday, 23rd June. The event was a physical session held in Apeldoorn, in the office of one of the project's participating companies, Brummel, a business to business, custom-made furniture designer and manufacturer.
Circularity is Future of the Industry
Project INFURI, short for INnovation in the FURniture Industry in the Era of Circular Economy, aims to spread innovative and sustainable circular business models in the furniture industry with the focus on SMEs. It involves collaboration with a consortium of 9 institutions from 7 countries in Europe and about 36 companies active in the furniture and circular economy.

According to Wittenborg's EU Project Coordinator, Aydan Ismayilova, the purpose of the second Living Labs session was to introduce local furniture companies in Gelderland to the Erasmus+ funded INFURI project that promotes and supports the companies in their transition to circular business models. "Circularity is the future of the industry. However, the transition to it constitutes a major challenge for companies from the high cost of innovation to lack of resources. Thus, the aim of the session is to understand the barriers and challenges faced by Dutch companies in their transition to more sustainable business," said Ismayilova.
Interactive Activities Lined Up for Participating Companies
Local furniture companies attending the session were Emondt kmi, Kloppenberg Meubelen, Petersen Interieur, Intermontage and Circulock. The companies participated in a few interactive activities including a Q methodology, self-diagnosis survey and manifesto. The inputs gathered during the session will assist the project partners in developing recommendations and training materials. Companies also indicated which areas of circularity they are more interested in and this can help the coordinators in planning for future activities of the project.
With the smooth running of the planned activities so far, despite the pandemic, it is hoped that this 30-month project, which started in December 2020, can be completed by May 2023. Judging by the enthusiasm shown during the session by the participating partners, more interactive and exciting activities will be planned for the next 4 living labs sessions which are in the pipeline.
WUP 5/7/2021
by Hanna Abdelwahab
©WUAS Press